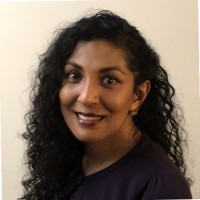 Razia Aziz-Seible, Phd MBA
Senior Associate, Chapman & Company
Razia Aziz-Seible earned a PhD in Biochemistry & Molecular Biology from the University of Nebraska Medical Center (UNMC) while investigating alcohol-induced immunological and fibrotic responses in the liver, at the VA Medical Center in Omaha, Nebraska. She remained in Omaha to pursue her postdoctoral studies at Creighton University (CU) where she expanded her research into the fields of osteoimmunology and mechanotransduction at the internationally renowned Osteoporosis Research Center. She then furthered her understanding of molecular immunology at CU's Department of Microbiology and Immunology. During this time, Dr. Aziz-Seible became involved in her mother's care during her futile fight with breast cancer. Subsequent to this loss, she was motivated to take a Research Associate position at the biorepository of CU's Hereditary Cancer Center working with the 'Father of Hereditary Cancer', the late Dr. Henry Lynch. She was later appointed Technical Director of the biorepository and was responsible for the early implementation of a strategy to preserve the legacy samples stored there in support of ongoing important translational research.
Prior to this, Dr. Aziz-Seible had earned an MBA from the University of Nebraska at Omaha (UNO) with a concentration in Business Analytics & Collaboration Science and began training in venture capital investing at UNO's Maverick Venture Fund (MVF). She left her position at CU to assume a role as a Consulting Fellow with the Omaha, Nebraska firm, Chapman and Company, LLC where she works to support those with entrepreneurial endeavors in the fields of biotechnology, biosciences, and healthcare. Dr. Aziz-Seible's work with bioscience startup, Peeq, LLC led to her leadership role at the company where she coordinates operations along with product research and development. She is now a Senior Associate at Chapman and Company and remains active with the MVF as a mentor.
Throughout her career, Dr. Aziz-Seible has been involved in various groups that encourage and support females in STEM fields. She has also been an advocate for greater diversity, equity, and inclusion in the fields of medicine and science, and now also in the entrepreneurial ecosystem. Along with her entrepreneurial aspirations, Dr. Aziz-Seible also finds much fullfilment in her role as a community health advocate.
When not working, advocating, or learning something new, Dr. Aziz-Seible devotes her time to family and friends, especially now in supporting each other through this pandemic.