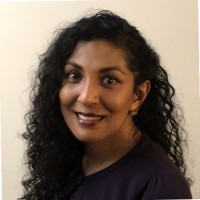 Razia Aziz-Seible, Phd MBA
Co-Founder, Pet Startup Company
Razia Aziz-Seible, PhD MBA, is an entrepreneur, bioscientist, community health and STEM advocate, consultant, and writer. Currently, she is the founder of a pet health startup company in Nebraska. Prior to that, Dr. Aziz-Seible was the product development and operational lead at Omaha-based bioscience startup, Peeq Industries. She also worked to support biotechnology, biosciences, and healthcare entrepreneurial endeavors as a Senior Associate with Chapman and Company, a startup consulting firm in Omaha. Prior to her work at Chapman and Company, Dr. Aziz-Seible was a Fund Associate with the University of Nebraska Omaha's Maverick Venture Fund, where she facilitated opportunities for entrepreneurs from underrepresented and non-traditional backgrounds and remained a Mentor after her departure. Additionally, Dr. Aziz-Seible worked in various roles at the Creighton University School of Medicine, including her appointment to Technical Director of the Biorepository and Tissue Processing Lab.
Throughout her career, Dr. Aziz-Seible has been involved in various groups that encourage and support women in STEM fields and currently serves on Bio Nebraska's committee for Nebraska Women in STEM. She has also been an advocate for greater diversity, equity, and inclusion in the fields of medicine and science, and now also in the entrepreneurial ecosystem. Along with her entrepreneurial aspirations, Dr. Aziz-Seible also finds much fulfillment in her role as a community health advocate.
Dr. Aziz-Seible earned a PhD in Biochemistry & Molecular Biology from the University of Nebraska Medical Center and an MBA with a concentration in Business Analytics & Collaboration Science from the University of Nebraska at Omaha. When not working, advocating, or learning something new, she devotes her time to family, friends, and her beloved pets.