Dr. Charlie Bicak, Senior Vice Chancellor for Academic and Student Affairs at the University of Nebraska at Kearney (UNK), was recently featured in UNK News celebrating his 40 years in education and his upcoming retirement from the university. Dr. Bicak served on Bio Nebraska's board of directors for many years and played an important role in the growth of our organization and the biosciences in Nebraska.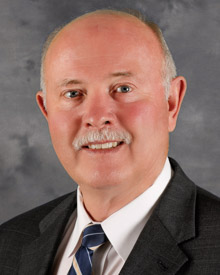 Article by Tyler Ellyson, UNK News
When Charlie Bicak retires later this month, he and wife Marylin won't be leaving Kearney to spend their golden years in some faraway location.
You'll still see him around the University of Nebraska at Kearney campus – at theater productions, music concerts, athletic contests and other events.
"This is home," he says. And it always will be.
The senior vice chancellor for academic and student affairs at UNK since 2009, Bicak is leaving the position June 30, ending a 40-year career in education.