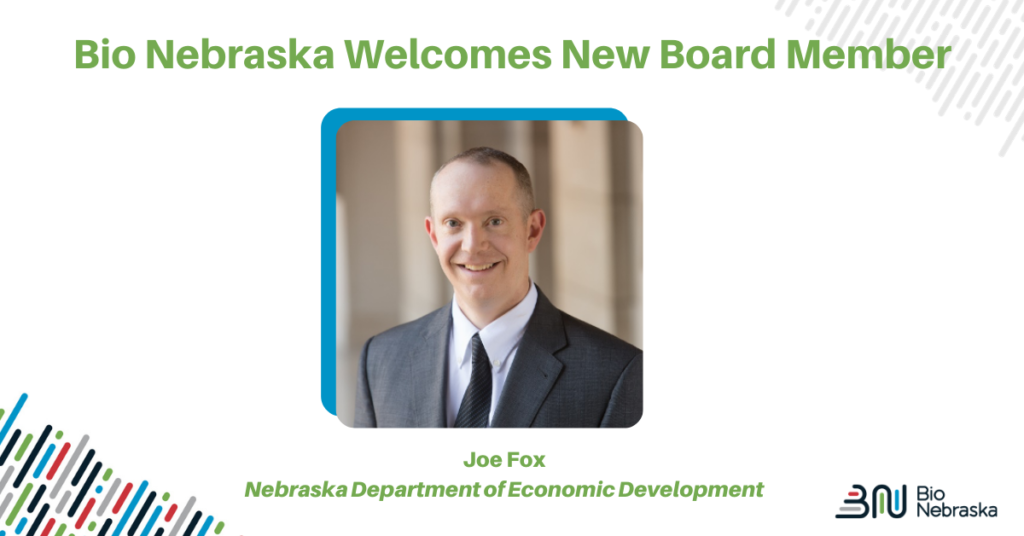 Bio Nebraska is happy to announce that Joe Fox, Director of Business Development for the Nebraska Department of Economic Development (DED), will join the Bio Nebraska Board of Directors, beginning in 2021.
Joe joined DED in 2013 as Business Innovation Manager. Currently, he oversees DED's national and international business recruitment, talent development, and innovation efforts, programs, and staff.
Prior to DED, Joe was an Associate at PricewaterhouseCoopers (PwC) in the Healthcare Advisory practice where he provided consulting and advisory services helping to resolve complex issues and identify opportunities for various client engagements. Joe joined PricewaterhouseCoopers in 2011. In 2006, Joe started serving as Director of Facilities and Institutions at the Indiana State Department of Health (ISDH).  While at the ISDH, Joe provided direct oversight and supervision to various ISDH divisions including the Indiana Soldiers and Sailors Children's Home, the State Health Laboratory, the Indiana Veterans' Home, and the ISDH Administrative Services Division.  
Joe holds a Bachelor of Journalism degree in Advertising from the University of Nebraska-Lincoln and a Master of Business Administration degree in Marketing and Entrepreneurship from Indiana University.  Joe and his wife Amanda currently reside in Lincoln with their three children; Cameron, Olivia, and Eli.    
Please join us in welcoming Joe to the Bio Nebraska Board of Directors!