Bio Nebraska Press Release
Bio Nebraska announced today that Evonik has been named the 2020 recipient of the Governor's Bioscience Award, presented by Gov. Pete Ricketts. This prestigious award was given during an award presentation ceremony this morning and recognizes individuals and companies making significant contributions to the Nebraska bioscience industry.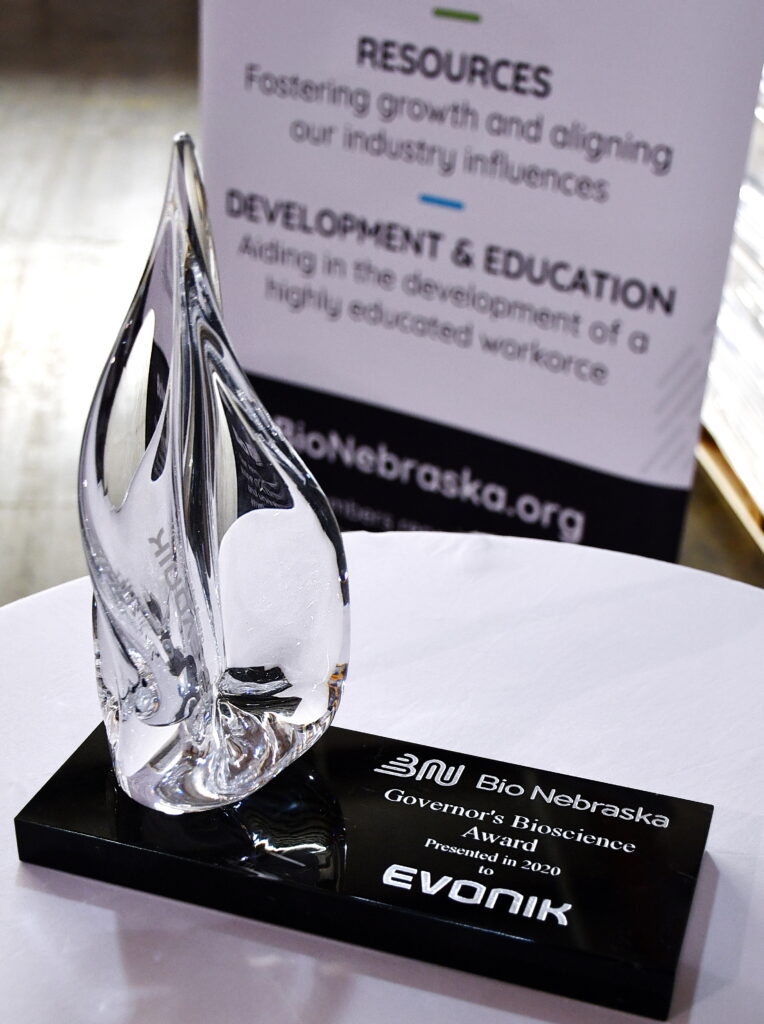 "Evonik was on the leading edge of Nebraska's bioscience growth when it came to Blair twenty years ago," said Gov. Pete Ricketts. "During the past two decades, Evonik has expanded operations and launched pioneering new ventures in the Cornhusker State. The company's innovations in animal nutrition are creating great jobs for Nebraskans, while providing an important market for local farmers. Evonik is very deserving of the 2020 Governor's Bioscience Award, and we look forward to celebrating its continued successes here in Nebraska."
Evonik's Blair, Neb. site, located approximately 20 miles north of Omaha, and employing about 105, manufactures Biolys®, a form of L-Lysine used to produce feed additives for swine and poultry animal nutrition. Production started in 2000 for lysine. In addition, Evonik and DSM have formed a 50:50 joint venture company called Veramaris® to produce omega-3 fatty acids (EPA & DHA) in Blair with a natural marine algae which started up in May 2019.
"We are proud to cap off Bioscience Month in Nebraska as this year's recipient of the Governor's Bioscience Award," said Paul Caldwell, site director for Evonik's Blair, Nebraska facility. "For more than 20 years now, we have been manufacturing essential ingredients for animal nutrition for customers throughout the country and around the world."
The Governor's Bioscience Award is presented annually to an individual or company that has made significant contributions to Nebraska's bioscience industry. The selection criteria range from conducting innovative research to product development to investment that grows the bioscience community in Nebraska. The recipient is selected based on input from Bio Nebraska Board of Directors, the Nebraska Department of Economic Development as well as conversations with state leaders. This year, the award has been presented during Nebraska's Bioscience Month, as proclaimed by Gov. Pete Ricketts earlier this month.
"October is Bioscience Month in Nebraska and we have been celebrating the accomplishments of Bio Nebraska members and the growth of Nebraska's bio-ecosystem the entire month," said Rob Owen, Executive Director of Bio Nebraska. "I can't think of a better way to bring Bioscience Month to a close than presenting Evonik with the Governor's Bioscience Award. Evonik is a key component of Nebraska's bio-ecosystem, a centerpiece of the industrial biotech sector in the state, and its commitment to investment in Nebraska makes it an ideal recipient of the award."