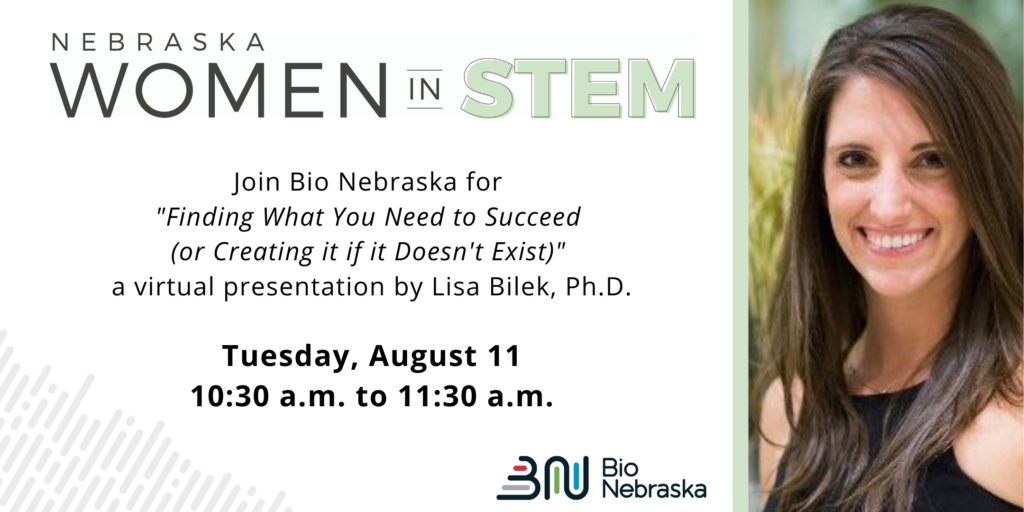 Join Bio Nebraska for "Finding What You Need to Succeed (or Creating It if It Doesn't Exist)," a virtual presentation for Nebraska's Women in STEM.
August 11, 2020
10:30 a.m. to 11:30 a.m. CDT
*Space is limited. Deadline to register: August 6, 2020.
About this Event
"Finding What You Need to Succeed (or Creating It if It Doesn't Exist)"
Lisa Bilek, Ph.D., tells the story of how she's shaped her career path to align with her life and how she has continued to identify and fill career development gaps. One of those gaps led her to co-found LOLA, a non-profit that seeks to empower women by connecting over the shared experiences we encounter in our professional lives.
About Lisa Bilek, Ph.D.
Lisa Bilek received her doctorate in neuroscience from the University of Nebraska Medical Center in 2013. Her research focused on the immunology of neurodegenerative disease, both as a contributor to pathobiology and as a target for therapeutic intervention. Since earning her degree, she has worked in medical affairs for biotech and pharmaceutical companies, accepting a position with Sanofi Genzyme's multiple sclerosis team in 2015. Lisa is passionate about empowering women and students. She is co-founder of LOLA, a non-profit that connects women over shared professional experiences, and sits on the UNMC Graduate Studies Alumni Advisory Board. She enjoys reading, running, painting, and (most of all) spending time with her husband and 2 year-old son.
This presentation is made possible by our 2020 Women in STEM sponsors!