Bio Nebraska announced today that Governor Pete Ricketts officially proclaimed the month of October as Bioscience Month in Nebraska.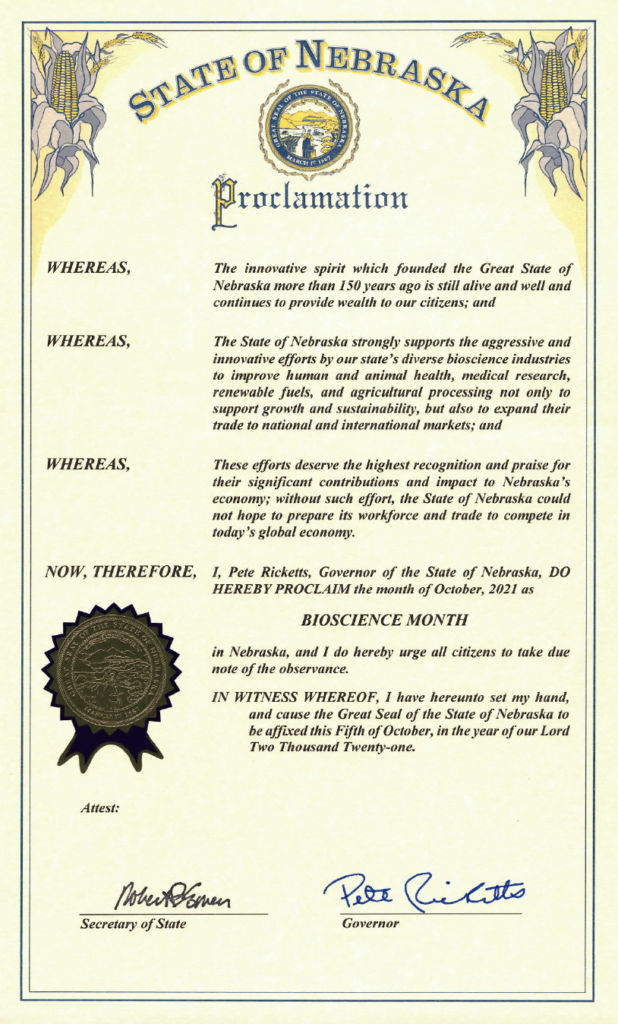 Bioscience Month recognizes Nebraska's diverse bio-ecosystem comprising the human and animal health sectors, renewable fuels, industrial biotech, agricultural processing, and education research, all of which are critical to the state's economy and competitiveness in the global market.
"Nebraska has a growing biofuels industry, abundant agricultural feedstock for bioscience manufacturing, and a university system committed to biotech innovation," said Governor Ricketts. "In 2021 we've taken steps to lower the costs of doing business and to equip students for careers in engineering and technology. As a state, we're well-positioned to grow opportunities in the biosciences for years to come."
According to Biotechnology Innovation Organization's (BIO) most recent report, the bioscience industry in Nebraska plays a significant economic role in the state. In Nebraska:
Nearly 18,000 jobs across 1,300 establishments are supported by the industry
The average annual salary in the industry is approximately $70,000
Research universities conducted $374 million in bioscience related R&D in 2018, which is 75% of all academic R&D in the state
"At Bio Nebraska, we are proud to represent over 90 bio-related member organizations whose work is at the forefront of innovation and development in the biosciences worldwide, while creating opportunities for economic development and growth across the state," said Rob Owen, Bio Nebraska Executive Director. "We are grateful to Gov. Ricketts for recognizing the importance of Nebraska's biosciences by proclaiming October as Bioscience Month."
To celebrate Bioscience Month, Bio Nebraska will host their 2021 Annual Meeting on Oct. 27, 2021, at Nebraska Innovation in Lincoln, Nebraska. The event will include Governor Pete Ricketts' presentation of the Governor's Bioscience Award and Bio Nebraska will present the inaugural Bioscience Lifetime Achievement Award. Bio Nebraska's celebration of Bioscience Month can be followed here and on their LinkedIn and Twitter.