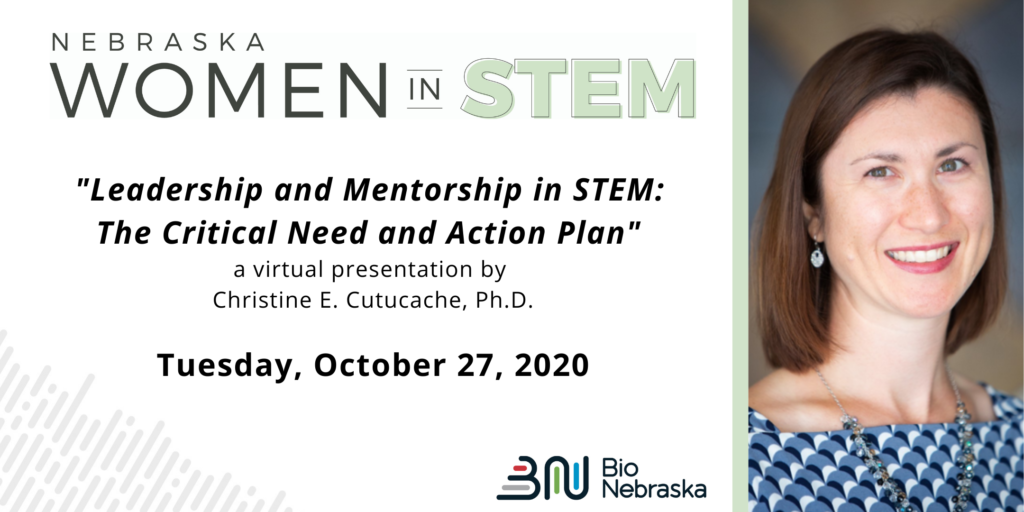 Join Bio Nebraska for a Bioscience Month (October) event, "Leadership and Mentorship in STEM: The Critical Need and Action Plan," a presentation for Nebraska's Women in STEM.
Tuesday, October 27, 2020
10:30 a.m. to 11:45 a.m. CDT
Registration: $25
*Free to Students
About this Event
Join Dr. Christine Cutucache as she discusses leading without authority wherever you are in your career, as well as the important role mentors can play in professional growth and how to find them.
About Christine E. Cutucache, Ph.D.
Christine E. Cutucache, Ph.D., Haddix Community Chair of Science, Associate Professor of Biology, and Director of the UNO STEM TRAIL Center at the University of Nebraska at Omaha (UNO).
Dr. Cutucache is a tumor immunologist turned science educator. During her tenure, Dr. Cutucache has secured $10.9 million in extramural funding, and has published 34 peer-reviewed articles on her research, and been selected as a Fulbright Scholar (2020). She has delivered over 50 presentations on her work around the world with most including undergraduate research students as co-authors or co-presenters. Her research lab is diverse in studying both tumor immunology (specifically tumor-induced immunosuppression in B- and T-cell leukemias and lymphomas) as well as Discipline-Based Education Research (so called 'DBER' or science education). She is interested in student-centered, inquiry-based practices to improve learning outcomes, including critical thinking and metacognition. Dr. Cutucache served as the founder of the now Nebraska-wide Nebraska STEM 4U (NE STEM 4U) program, which engages K-8 youth in high quality out-of-school time activities in STEM via problem-based learning. To-date, this program has engaged 6,000 youth through sustainable, academic year-based programming. The NE STEM 4U project is a collaborative project between the University and Community Partners and stakeholders.
Currently, she is preparing a textbook with Elsevier on "MicroRNA in Human Malignancies" and a book called, "Leading from the Middle", both for publication in 2021.
Registration Deadline: October 25, 2020.
This presentation is made possible by our 2020 Women in STEM sponsors!