Our June Member Spotlight features BastLab, a biotechnology company headquartered in Omaha that engineers, manufactures, and commercializes high-performance products.
The company maximizes the use of bio-based materials, focusing especially on industrial hemp fiber. By doing so, BastLab leverages the unique properties of this fiber, contributes to the emergence of the U.S. industrial hemp industry and plays its part to reduce the impact of global warming. The company is commercializing two products under its consumer-facing brand, Everydaily: barrier masks and athletic towels.
Barrier Masks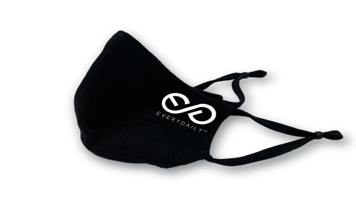 The novel reusable, 3-ply barrier masks breathe easily, wick moisture well (i.e. sweat), fit snugly (minimal leakage), effectively block sub-micron particulates (anticipated to equal N95's efficacy) and are very comfortable. Eighty-five percent of the three engineered textile layers are made from softened hemp fiber.
While the widespread use of masks is dropping, their long-term adoption within certain industries has already begun. For instance, companies providing in-home care are trending towards continued use of masks by their care givers. Reflecting this trend, BastLab has a letter of intent to provide Home Instead, an Omaha-based, in-home senior care service, with barrier masks. This is a step toward a strategic partnership whereby BastLab will become one of Home Instead's preferred providers.
Potential buyers of the company's barrier masks also include long-term care and assisted living facilities and certain service industries, as well as a portion of the general public, such as those encountering air pollution from forest fires.
Athletic Towels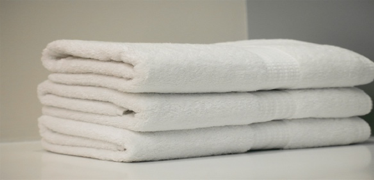 The athletic towels are the focus in Everydaily's upcoming crowdfunding campaign. Constructed from a blend of hemp and organic cotton, they have been tested for absorption, wicking, and durability/strength at North Carolina State University's College of Textiles. Accugen Laboratories, a microbiology testing lab, assessed the towels' resistance to molds. The results support comments by collegiate and club swimmers who have used the towels: they absorb rapidly, dry-out fast, don't smell (partly attributable to inherent resistance to certain molds), and are durable. They are also very soft, rivaling towels found in high-end hotels.
Everydaily will sell directly to consumers through its e-commerce platform. Affiliated branding with well-known sports organizations and direct sales to the high-end segment of the hospitality industry will follow the crowdfunding campaign.
The Reasons for Using Hemp Fiber
The towels and barrier masks are performance products in large part because BastLab has engineered hemp fiber into the construction of the products. The inherent resistance to certain molds, strength, and high wicking capacity translates into novel product performance. The chemistry and the structure of the fiber are unique and its use as a product is versatile.
Beyond its value in product construction, hemp fiber is a rapidly renewable and sustainable raw material. Industrial hemp is an extremely efficient plant. Typically, few inputs in small quantities yield large amounts of hemp biomass per acre. The plant does not require much water to flourish, and it is resilient, invariably withstanding intense heat. Its root system contributes to a healthy soil culture and is potentially a significant carbon sink.
In short, industrial hemp is not only a source of a potentially abundant, valuable raw material for product engineering, it is also potentially an abundant natural resource whose widespread acreage uptake could have enduring environmental benefits.
Challenges Facing the U.S. Industrial Hemp Industry
The emerging U.S. industrial hemp industry has enormous potential to be economically robust while being environmentally beneficial, but it faces several interconnected challenges; an integrated supply chain that is not yet formed and a persistent public knowledge gap.
The many actions along the supply chain, from breeding cultivars suitable for specific micro-climates to engineering products using different parts of the plant, have yet to meld in an organized, cohesive manner, though many groups and individuals are working towards this effort, both collaboratively and in silos. For the industry to realize its potential, the different participants along the supply chain need to emerge and collaborate.
The public, especially since the advent of federal regulatory changes, has an increased awareness of the difference between cannabis and industrial hemp, but this awareness is far from universal. Moreover, a broad and deep understanding for how industrial hemp can be used in a vast array of consumer and industrial products is lacking.
Ways BastLab Will Collaboratively Help Address These Industry Challenges
In the absence of a U.S. industrial hemp manufacturing supply chain, BastLab established its own in India. BastLab's CTO, Tapan Chatterjee, who is well recognized within the industry for his natural fiber product development expertise and his fiber processing knowhow, led this effort over a three-year period. Fiber processors, yarn spinners, and fabric weavers were vetted during site visits, and product development programs involving iterative prototyping and sample runs provided opportunities to assess technical capabilities and manufacturing QC of potential suppliers.
BastLab intends to bring its processing knowhow back to the U.S., contributing to the buildout of the nascent domestic production supply chain. The company will be involved at different processing stages; in some cases through operating collaboratively with existing manufacturers and in other cases by operating independently or licensing the company's processing know-how.
Additionally, BastLab, through its product development and branding efforts, will pull from the end of the supply chain and help further educate the public. Performance driven products that have novel attributes because they are produced with hemp materials will become tangible examples of the practical uses of the plant.
The branding strategy that BastLab is executing includes the consumer facing brand, Everydaily, and an ingredient brand, Hemprotec. These brands will permit the company to engage the consumer. Everydaily links industrial hemp with products that are practical and part of our everyday life. Hemprotec provides the company a platform to help inform the public about the possible uses of hemp fiber and other hemp materials in engineered products.
Engaging with Nebraskan Engineers and Scientists in Product Development
Bastlab's product development efforts have benefited from the contribution of individuals in Nebraska. Among them are:
Dr. Michael F. Kocher, Associate Professor of Biological Systems Engineering at the University of Nebraska at Lincoln, took his sabbatical to engineer BastLab's proprietary, patented fiber separation equipment.
Dr. Robert Penn, an infectious disease specialist who is affiliated with UNMC and Methodist Hospital, has supported BastLab's efforts to develop products that minimize the spread of hospital acquired infections. As an example, Dr. Penn helped the company develop an effective biocidal textile treatment by identifying pathogens to target.
Also from UNMC, Dr. Chandran Achutan, Department of Environmental, Agricultural & Occupational Health College of Public Health, conducted preliminary leakage tests on textiles that will be used in the construction of the company's barrier mask. Dr. Joshua Santarpia, from the Department of Pathology and Microbiology, School of Medicine, assessed the same textiles capacity to block submicron airborne particulates. The preliminary testing by both scientists produced encouraging results, nearing or reaching the performance of a N95 mask.
The Future
In the future, BastLab will continue to develop and brand unique products using bio-based materials with an emphasis on the use of industrial hemp fiber.
To collapse the time required to introduce new products, the company will establish an application development facility in the U.S. As previously noted, the company intends to be part of the U.S. industrial hemp supply chain as an independent manufacturer and/or process collaborator. If possible, BastLab plans to do so in Nebraska.
Lastly, the company will play a role, along with many industry partners, to engage and inform the broader public about the uses of industrial hemp materials, in part through the branding and marketing of its performance driven products.
If you would like to receive information regarding the upcoming crowdfunding campaign, please click here. By backing such campaigns, you'll receive not only products reflecting what is made possible by the emergence of a new industry, you'll help the new industry emerge.
If you would like to learn more about BastLab, its products, investment opportunities or explore commercial relationships, please contact John Carpenter, CEO and Co-founder, at [email protected]