This month, we talked to BD for our November Member Spotlight. BD was recently award the 2021 Governor's Bioscience Award presented by Governor Pete Ricketts for its significant contributions to the Nebraska bioscience industry.
Tell us about BD.
BD is one of the largest global medical technology companies in the world and is advancing the world of health by improving medical discovery, diagnostics and the delivery of care. We support the heroes on the frontlines of health care by developing innovative technology, services and solutions that help advance both clinical therapy for patients and clinical process for health care providers.
Our employees have a passion and commitment to help enhance the safety and efficiency of clinicians' care delivery process, enable laboratory scientists to accurately detect disease and advance researchers' capabilities to develop the next generation of diagnostics and therapeutics. By working in close collaboration with customers, we can help enhance outcomes, lower costs, increase efficiencies, improve safety and expand access to health care.
Why is Nebraska an important location for BD?
Nebraska has been a key manufacturing hub for BD for approximately 70 years. BD operates four world-class manufacturing facilities in Nebraska: Holdrege, Broken Bow and two facilities in Columbus.
We first established our manufacturing presence in Nebraska following World War II to support the U.S. government's call for the geographic diversification of manufacturing operations away from the East Coast. At the time, BD leadership found an invaluable infrastructure, community, and talent pool here in Nebraska. Most importantly, the incredible work ethic of Nebraskans was an early and important draw to the state. Since then, our Nebraska-based teams have been motivated by the promise and power of ensuring providers on the front lines of health care have access to needed injection devices.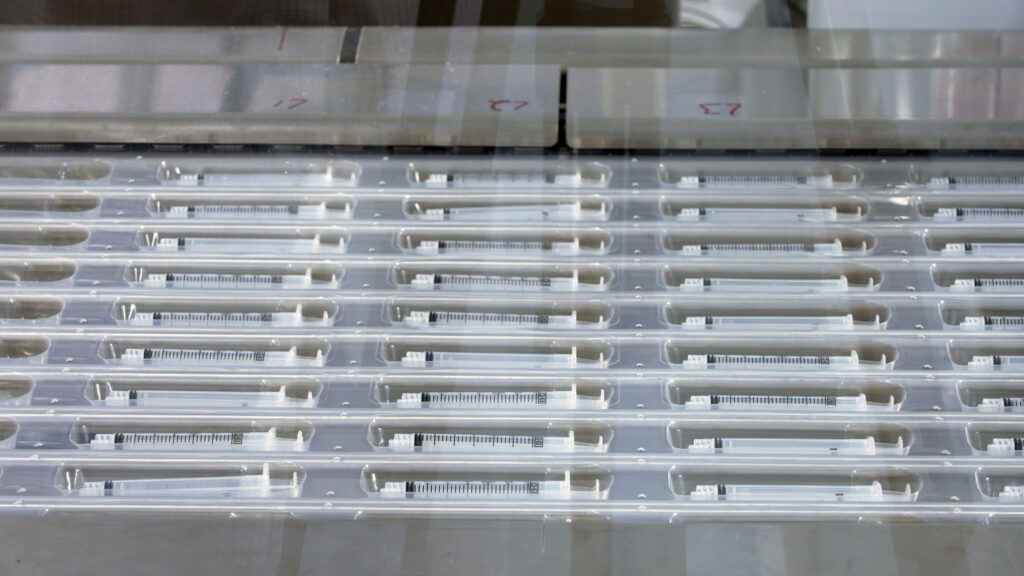 Beyond Nebraska, how large is BD's footprint?
We have a presence in virtually every country and partner with organizations around the world to address some of the most challenging global health issues.
How many employees?
We have 3,500 employees based in Nebraska and employ approximately 70,000 people across the globe.
Who are your customers and where are they located?
We serve customers in virtually every corner of the world. Our customer portfolio is diverse and includes leading health systems, health care institutions, science researchers, clinical laboratories, the pharmaceutical industry, and the general public.
What are some of the biggest challenges facing the medical technology industry today and how does BD play a role in helping overcome those challenges?
The COVID-19 pandemic has underscored the importance of maintaining a predictable and robust supply chain, particularly for the materials needed to diagnose, treat and prevent the virus. As the global supply chain continues to face unprecedented pressure, BD is committed to ensuring supply continuity of much-needed materials and devices.
That's why our presence in Nebraska is so important. Our four manufacturing facilities provide us with the opportunity to support supply chain resiliency and preparedness. Just last month, we unveiled new needle and syringe manufacturing lines in our Holdrege facility. These new lines will help strengthen the U.S. government's access to safety injection devices through increased manufacturing capacity and support timely vaccination efforts.
What have been some significant opportunities for BD?
Our purpose – advancing the world of health™ – has never been more relevant or urgent than it is today. With 45 billion devices manufactured that touch approximately 90 percent of all patients admitted for care, we have an incredible reach and can make a significant impact.
Our legacy at BD has been built on identifying the potential to reshape health care, getting a grasp on the specific problem at hand and investing in new solutions. That legacy certainly shapes our outlook on future opportunities. As we look to the future of health care, we see significant opportunities to address three key trends in care delivery: smart, connected care, the shift to new care settings and improving chronic disease outcomes.