For our July Member Spotlight we talked to Bluestem Biosciences, a Nebraska-based startup company working to enable existing infrastructure in the Midwest for industrialized synthetic biology.
Tell us about Bluestem Biosciences.
Bluestem Biosciences, Inc., is designing biology with the end in mind, to enable existing infrastructure in the Midwest for industrialized synthetic biology. We are building a proprietary digital biology architecture to facilitate our scientific discovery and simulate science and biological systems. Bluestem is engineering biology to make chemicals from organisms, not oil.
What is synthetic biology?
The National Institute of Health describes synthetic biology as "a field of science that involves redesigning organisms [or microbes] for useful purposes by engineering them to have new abilities." Similar to how computers can be programmed with 1s and 0s, biological systems can reengineer the DNA structure of A-C-T-Gs.
For example, imagine a future where a yeast organism no longer produces ethanol, but is re-engineered to produce higher value chemicals, with enhanced decarbonization and sustainability characteristics.
What products/services do you offer?
Bluestem is currently in its discovery research and development phase; engineering novel organisms to produce sustainable and higher value chemicals from existing fermentation infrastructure. Our future revenue model will be to license our biological technologies (e.g. microbial strain and fermentation/separations processes) to existing infrastructure owners – to reimagine biomanufacturing in the Midwest.
Why is Nebraska an important location for Bluestem?
From day one, our thesis is that synthetic biology innovation has a strategic role in the Midwest. We believe that the innovation in the sciences on both coasts is destined to collide in the Midwest, given the access to renewable resources, existing infrastructure, and industry expertise.
Moreover, we have experienced tremendous support from the local community and key stakeholders who want Bluestem to succeed.
What are ways that you work to recruit and retain Nebraskans?
Bluestem is embracing a fully distributed workforce in order to attract and retain the best talent. However, we believe that over time, Nebraska will prove a unique location for our team to grow, and relocate to.
Beyond Nebraska, how large is Bluestem's footprint?
We are a pre-seed start-up that launched in January of 2022. We hope that by the end of the year, we will have ten employees that will be located throughout the United States and internationally. Currently, members of our Strategic Advisory Board span from California to New York to Sweden, and include Omaha as well!
Who are the key members of your team?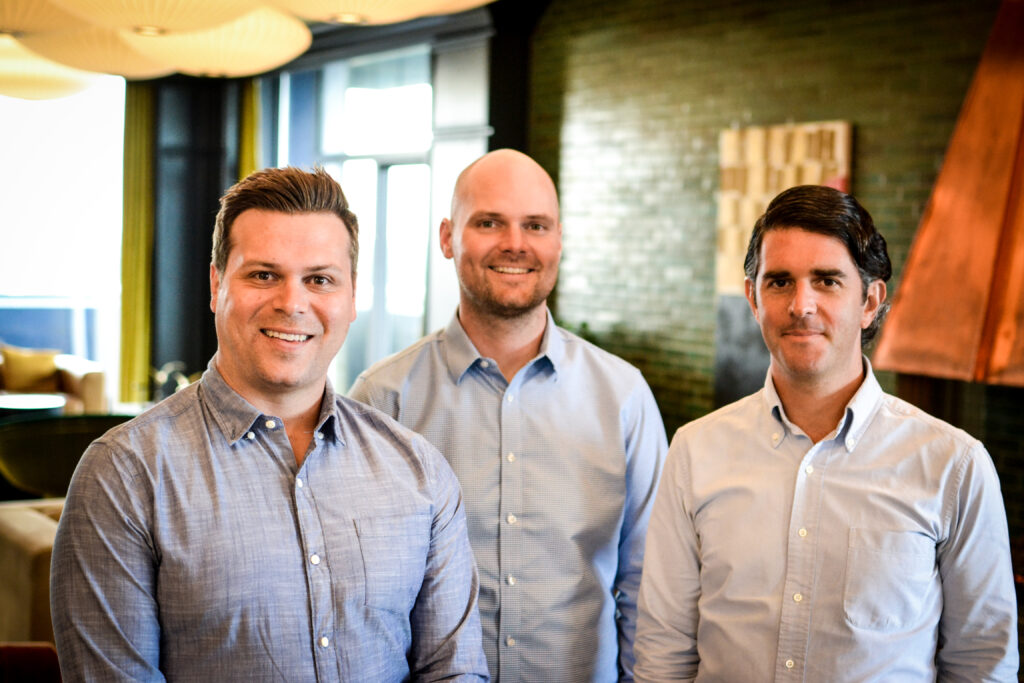 Billy Hagstrom and Tyler Autera, both based in Omaha, founded Bluestem in January 2022. Their first hire was Jared Wenger, Head of Research & Development, who brings over ten years of experience in synthetic biology.
Billy Hagstrom previously served as EVP of Strategy & Development for Green Plains. Prior to moving to Omaha in 2021, Billy served as CEO of Cannalysis. Previously, he was a Managing Director at Highbridge Capital Management. Billy started in investment banking at J.P. Morgan. He earned his BA in Economics from Northwestern University.
Tyler Autera is a multi-disciplinary entrepreneur with leadership experience across science, technology, operations. Most recently, Tyler served as SVP of Science & Technology at Green Plains and prior to that co-founded Cannalysis Labs. Tyler graduated from San Diego State with a BS in Biology.
Jared Wenger has spent over 10 years in the biotech industry, most recently leading Technical Operations for a vaccine startup in Nebraska. Prior to moving to Nebraska, Jared spent four years at Zymergen, initially developing genetic tools for bacterial and yeast strain manufacturing pipelines, and ultimately leading process engineering and continuous improvement efforts across Build and Test capabilities. Jared started his career as a strain engineer at Amyris, after receiving his Ph.D. in Genetics from Stanford and B.S. in Biological Sciences from Carnegie Mellon.
Who are your customers and where are they located?
Our future customers will be the thought-leading companies that want to decarbonize their footprints through the usage of bio-based chemicals. We are seeing supply chains begin to transform with direct investments into emerging technology companies, like Bluestem.
When we announce our bio-based chemical targets in the Fall, we believe strategic partnerships will be soon to follow. Our Strategic Advisory Board is anxious for Bluestem to begin those discussions.
What are some of the biggest challenges facing your industry today and how does Bluestem play a role in helping overcome those challenges?
Producing drop-in, bio-based chemicals through synthetic biology still faces challenges achieving cost-competitiveness with existing products. Bluestem's combination of digital biology architecture, anaerobic metabolism, and retrofit of existing fermentation infrastructure provides an optimal route to the lowest-cost bio-based drop-in alternatives.
What else would you like to include?
Bluestem believes that the market potential for synthetic biology is immense. Eric Schmidt of Schmidt Futures, (formerly of Google) believes that biology will be larger in economic potential than the computer industry, potentially reaching $30 trillion.
McKinsey Global Institute has dimensionalized the potential of synthetic biology as the next industrial revolution with trillions of dollars of market potential. Whereas, BCG believes synthetic biology has the potential to "disrupt your industry."
Bluestem is building a very unique approach to synthetic biology that we believe is highly differentiated. Importantly, the team worked around the clock to file its first Provisional Patent Application with the U.S. Patent & Trademark Office that memorializes in great detail our digital architecture, scientific approach, and Bluestem's early discovery.
Stay tuned for many more announcements out of Bluestem!