Throughout the COVID-19 pandemic, we saw a number of Nebraska-based companies respond to the crisis with creative and innovative solutions. In the case of MicroWash, not only did it respond, a new company was born.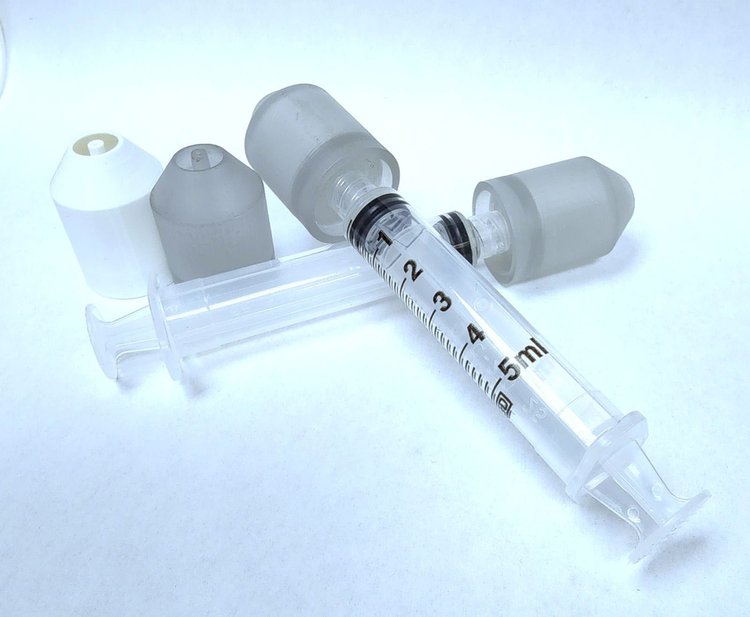 The MicroWash is a fast, pain-free, and self-contained nasopharyngeal irrigation device designed to collect specimens from your nose. Specimens collected can be used to test for COVID-19 and other respiratory illnesses. After two years and dozens of prototypes, the MicroWash is now available to medical providers.
The MicroWash was developed by two University of Nebraska Medical Center (UNMC) doctors, Dr. Thang Nguyen and Dr. Michael Wadman. After witnessing healthcare professionals leaning into vehicles to test for COVID-19, they wanted to come up with something that could be more safely and consistently administered by healthcare providers.
The MicroWash is less invasive than other collection methods and can be administered by health professionals, or even self-administered by patients. Patients have reported it as being significantly more comfortable; 100 percent of patients surveyed said that they would use the MicroWash at home, compared to only 25 percent of patients who said they would use a nasopharyngeal swab at home.
Not only is it easy to administer, the MicroWash is much better for laboratories as well. Nasal specimens are typically sent to large, high-throughput laboratories with the broken-off swab, which must then be taken out prior to testing, or risk creating specimen testing errors – all of which costs time and money.
The MicroWash team is led by founder James Young, CEO, and UNMC clinician and inventor, Dr. Nguyen, CTO. The company has partnered with the UNeTech Institute, an entrepreneurial support organization jointly supported by the University of Nebraska at Omaha (UNO) and UNMC, with the goal of getting the MicroWash into the hands of medical providers.
To learn more, visit the MicroWash website www.getmicrowash.com.