Our October Member Spotlight features Prolytix. For over 30 years, Prolytix has supported biotherapeutic drug development from discovery through commercial release and stability. The company's Mass Spec Center of Excellence is located near the University of Nebraska – Lincoln.
Tell us about Prolytix.
Prolytix, formerly known as Haematologic Technologies, has 30+ years of experience in identifying and solving protein chemistry challenges. With our comprehensive analytical and bioanalytical services, coagulation expertise, and high-resolution mass spectrometry capabilities, we support a wide range of projects from discovery through clinical/commercial release and stability.
The company was founded by scientists from the University of Vermont to provide plasma-derived, purified proteins to the research community. We continue to sell our research-grade reagents and customized collection devices to researchers all over the world. Over time Prolytix added capabilities to offer services that support development of: plasma-based protein therapies, monoclonal and polyclonal antibodies, cell and gene therapies, recombinant proteins, and vaccines and viral vectors.
Why is Nebraska an important location for Prolytix?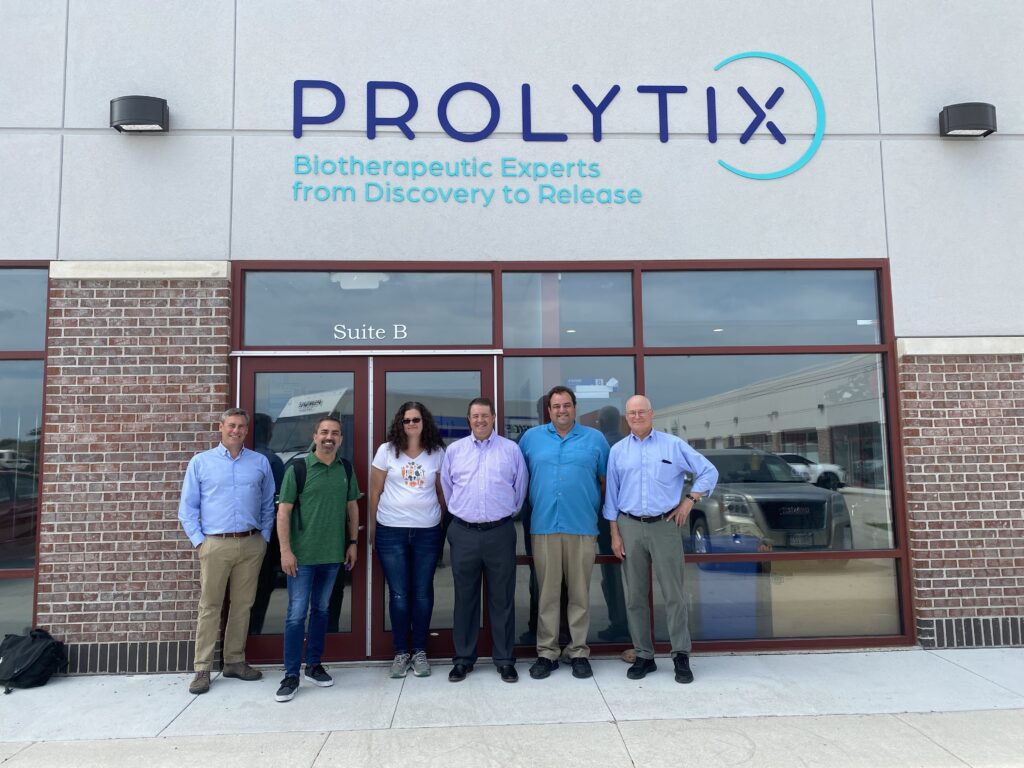 We decided to locate our Mass Spec Center of Excellence in Nebraska based on its central location and proximity to the University of Nebraska – Lincoln (UNL).
One of the biggest challenges to the biopharmaceutical industry is the urgency to provide safe and effective biotherapeutics to address the needs of patient populations that are desperate for hope.  As a service provider to this industry, we are dependent upon a workforce that has the body of knowledge and skills to develop and execute complex testing and analyses. One of the benefits of establishing the Mass Spec Center of Excellence in Lincoln, Nebraska is its proximity to UNL which provides a pool of skilled graduates to support our needs.
Recently Prolytix has become an expert service provider for the development of drug products to treat food allergies. Several companies have initiated programs to promote tolerance to specific food allergens.  The idea is to provide small but increasing amounts of specific allergens associated with foods  such as peanuts, with the intent to develop tolerance which will reduce the risk to individuals with food allergies. The proximity of the Lincoln Lab to UNL provides opportunities that are unique.  For example, the Food Allergy Research and Resource Program was founded by Steve Taylor at the University of Nebraska in 1995. This program has been providing the food industry with credible information, expert opinions, tools, and services relating to allergenic foods.
What products and services do you offer?
Products
Prolytix provides research reagents and custom collection devices to academic institutions, clinical research organizations, and other groups around the world. Our core product line includes proteins, antibodies, and associated reagents for thrombosis research and in vitro diagnostic applications. An authority in plasma proteins, Prolytix is a leading provider of bovine proteins, cell culture reagents, angiostatins, and a wide range of custom reagents.
We also provide custom collection devices. When you need a tube or other container customized for sample preservation or anticoagulation, we can manufacture to your specifications. We can provide batch sizes from small to thousands.
Services
Prolytix provides services to support large molecule drug discovery and development.
With our expertise in protein chemistry and our agile, consultative approach, whether you need analytical characterization to support chemistry, manufacturing, and control (CMC) or method development and validation to support clinical/commercial release testing, we will work with you to provide customized, quality results. Prolytix provides the following services:
Analytical method development and validation
Characterization and comparability studies
Coagulation assays
Large molecule downstream process development and optimization
Host Cell Protein identification and analysis
High Resolution Mass Spec services
GxP Services including release and stability, bioanalysis, immunogenicity assays, etc.
How many employees do you have and where are they located?
We have approximately 50 employees with the majority in Essex Junction, VT. The Nebraska lab is small but is an integral part in supporting our clients.
Who are your customers and where are they located?
Prolytix has a diverse customer base. We work with virtual to large biopharma customers with our heaviest concentration being virtual to mid-size. This size company aligns well with our agile, flexible solutions. We work with companies and research institutions all over the world.
What have been your greatest opportunities in the industry?
Our greatest opportunities have arisen from our strong foundation in protein chemistry, plasma fractionation, hemostasis and thrombosis.
For example, Prolytix has collaborated with the inventors of a technologically-advanced and transformative process for the extraction of therapeutically useful proteins from plasma. Intravenous immunoglobulin (IVIG) is a protein product prepared from human blood plasma for the treatment of primary immunodeficiency and a wide variety of other immunological disease conditions. According to the American Board of Internal Medicine Foundation, at least 1 in 1,200 persons in the U.S. had primary immunodeficiency in 2017.
Similarly, Prolytix played a pivotal role in the development and release of an enzyme replacement therapy related to Hemophilia. This drug product has been well received by the patient population and improved their quality of life.
Whether providing specialized blood collection tubes to support clinical trials, complex analytical methods to support development and release of novel biotherapeutics, or quality reagents to support basic research, Prolytix has had the opportunity to support the development of transformative medicines.