Bio Nebraska announced today that Merck Animal Health has been named the 2023 recipient of the Governor's Bioscience Award.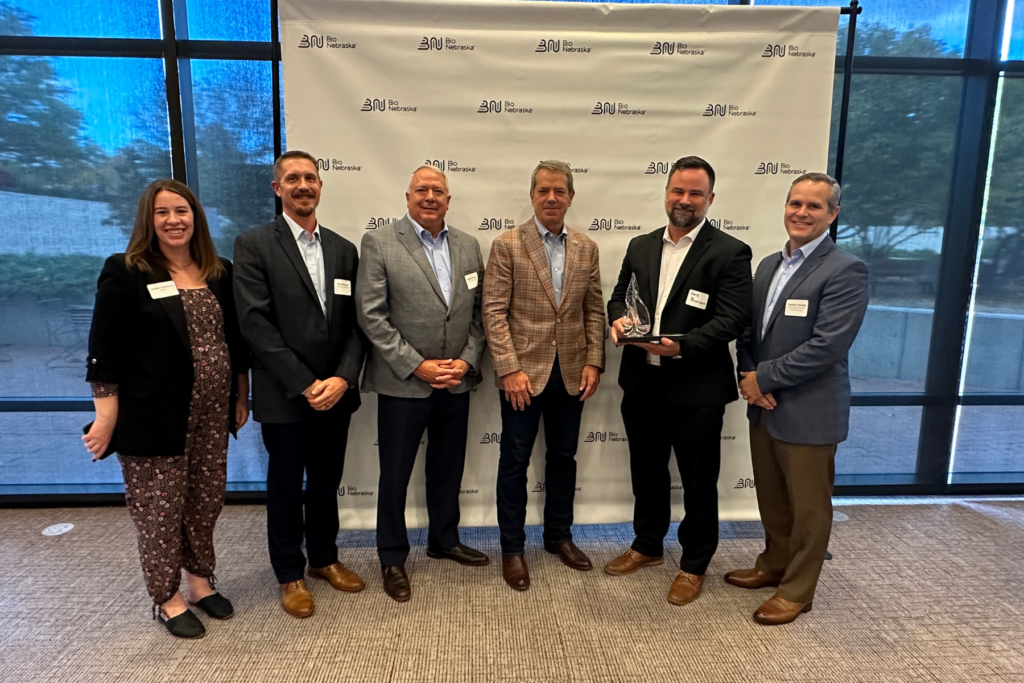 This prestigious award, which recognizes individuals and companies making significant contributions to the Nebraska bioscience industry, was presented by Governor Jim Pillen during an award presentation ceremony at Bio Nebraska's Annual Meeting on Oct. 26, 2023, in Lincoln, Nebraska.
"The combination of continued success and innovation makes Merck Animal Health a standout in the bioscience arena in Nebraska," stated Governor Pillen. "We couldn't be more proud of its strong commitment to our state."
Merck Animal Health develops, manufactures and markets a broad range of veterinary medicines and services. They offer products that prevent, treat and control disease in all major farm and companion animal species. Merck Animal Health has offices in 50 countries and market their products in more than 140 countries. Additionally, the company operates a network of manufacturing sites and research and development (R&D) facilities around the world, including a facility in Elkhorn, Nebraska and a distribution center in Omaha, Nebraska.
The Elkhorn manufacturing facility employs more than 300 professionals and includes Research & Development, Regulatory Affairs, Biotechnical Support, Biotechnology Manufacture, Quality Management and other support functions. The facility supports the company's poultry, ruminant, swine, and companion animal markets. Most recently, the site underwent a multi-million dollar capital investment to increase capacity and support the company's virus and packaging areas.
The manufacturing facility is supported by one of Merck Animal Health's largest distribution centers, located just 30 minutes away in Omaha. The Omaha center, which employs appproximately 100 colleagues, processes nearly $2 billion in throughput for both the US and US-sourced exports and ships to more than 15,000 U.S. customers and more than 70 markets internationally.
"The state of Nebraska under the leadership of Governor Jim Pillen provides Merck Animal Health an environment that allows us to continue to innovate and expand our research and manufacturing capacities to meet the increasing demand for our animal health products and solutions," said Matt Shields, SVP Operations, Global Animal Health Manufacturing. "The innovative mindset, cost of doing business, and access to a strong work force make Nebraska a great state to do business and an integral part of Merck Animal Health's bright future."
The Governor's Bioscience Award is presented annually to an individual or company that has made significant contributions to Nebraska's bioscience industry. The selection criteria range from conducting innovative research to product development to investment that grows the bioscience community in Nebraska. This is the second time Merck Animal Health has won this coveted award. The award was accepted by Matt Shields on behalf of Merck Animal Health Global Manufacturing, and Nathan Rasmussen, Executive Director, Plant Management for the Elkhorn site.
"October is Bioscience Month in Nebraska and we have been celebrating the accomplishments of Bio Nebraska members and the growth of Nebraska's bio-ecosystem the entire month," said Rob Owen, Executive Director of Bio Nebraska. "I can't think of a better way to conclude Bioscience Month than presenting Merck Animal Health with the Governor's Bioscience Award. Merck's commitment to Nebraska and its continued success and growth make it an ideal recipient of the Award. "