April 21, 2021 announcement from Nebraskans for Step Therapy Reform
Patients and providers from across Nebraska today celebrated along with Governor Pete Ricketts and bill sponstor Senator Mark Kolterman during a virtual, ceremonial bill signing for step therapy reform legislation .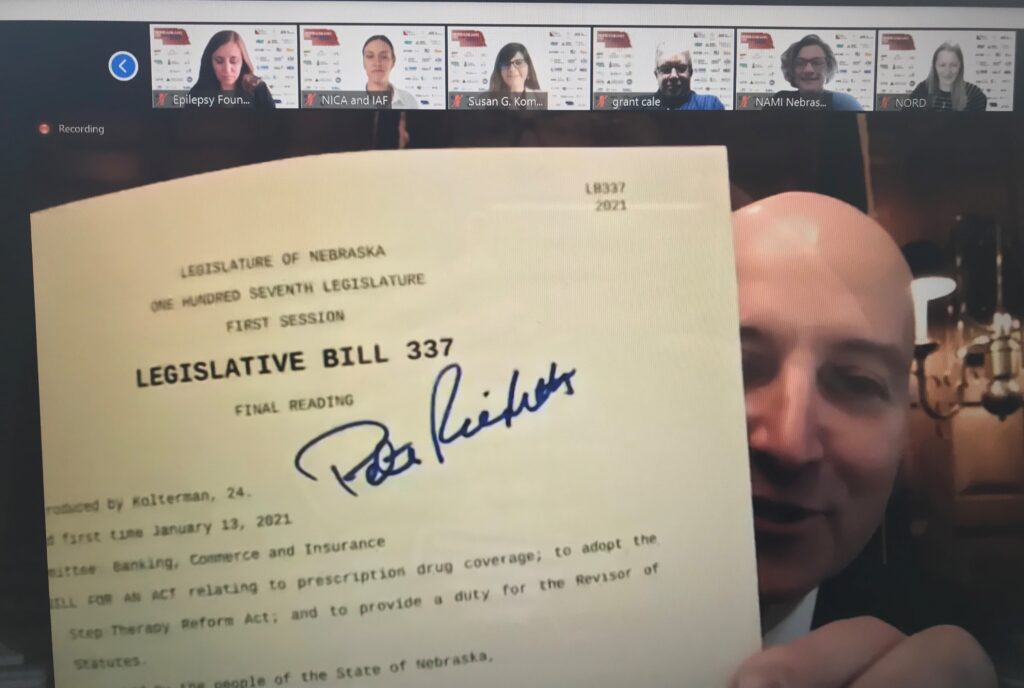 "Step therapy" or "fail first" requires patients to try and fail on one or more treatments other than the medication their provider ordered before covering the originally prescribed treatment. Delays in getting the proper care can lead to negative health outcomes and worsening of conditions in some patients.
Throughout the legislative process, LB337 saw overwhelming support. The bill does not ban the use of step therapy but instead implements reasonable timelines and override protocols.
"On behalf of the more than three dozen patient and health care provider groups who supported step therapy reform in Nebraska, I'd like to thank the Governor for taking the time to recognize the importance of this patient protection law," said Kristen Stiffler, state government relations manager for the National Psoriasis Foundation and leader of the Nebraskans for Step Therapy Reform Coalition. "With the passage of this bill, patients and their healthcare providers will now have better access to the right medicine at the right time."
Insurers will need to be in compliance with the new law as of January 1, 2022.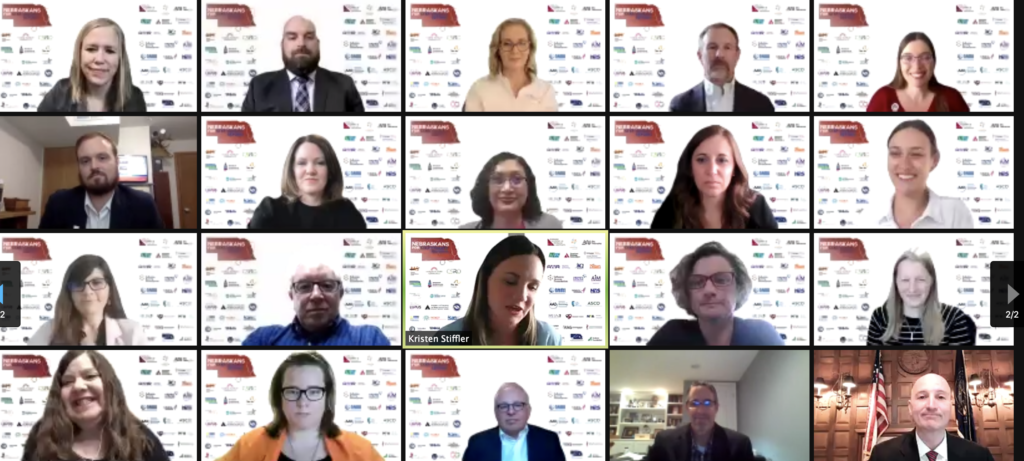 LB 337 is supported by the following organizations:
AIM at Melanoma,Allergy & Asthma Network, Alliance for Patient Access, American Autoimmune and Related Disease Association,American Cancer Society Cancer Action Network, American College of Cardiology-Nebraska Chapter, American College of Rheumatology, American Diabetes Association, Arthritis Foundation, Association for Clinical Oncology, Association of Women in Rheumatology, Bio Nebraska, Brain Injury – Nebraska, Cancer Support Community, Coalition of State Rheumatology Organizations, Crohn's & Colitis, Epilepsy Foundation Nebraska/South Dakota, Global Healthy Living Foundation/Creaky Joints, International Cancer Advocacy Network, International Foundation for Autoimmune & Autoinflammatory Arthritis, International Pain Foundation, Lupus and Allied Diseases Association, Lupus Foundation of America, Mended Hearts, Mental Health America, Multiple Sclerosis Association of America, NAMI National, NAMI Nebraska, National Eczema Association, National Hemophilia Foundation, National Infusion Center Association, National Multiple Sclerosis Society, National Organization for Rare Disorders, National Psoriasis Foundation, Nebraska Cancer Coalition, Nebraska Chapter – National Hemophilia Foundation, Nebraska Academy of Family Physicians, Nebraska Academy of Physician Assistants, Nebraska Dermatology Society, Nebraska Medical Association, Nebraska Nurse Practitioners, Nebraska Oncology Society, Nebraska Pharmacists Association, Nebraska Rheumatology Society, Rheumatology Nurses Society, Susan G Komen Nebraska, The Arc of Nebraska