Press Release, November 7, 2023
Bio Nebraska and Nebraska Cures announced today that registration is open for the 2024 Nebraska Women in STEM Conference.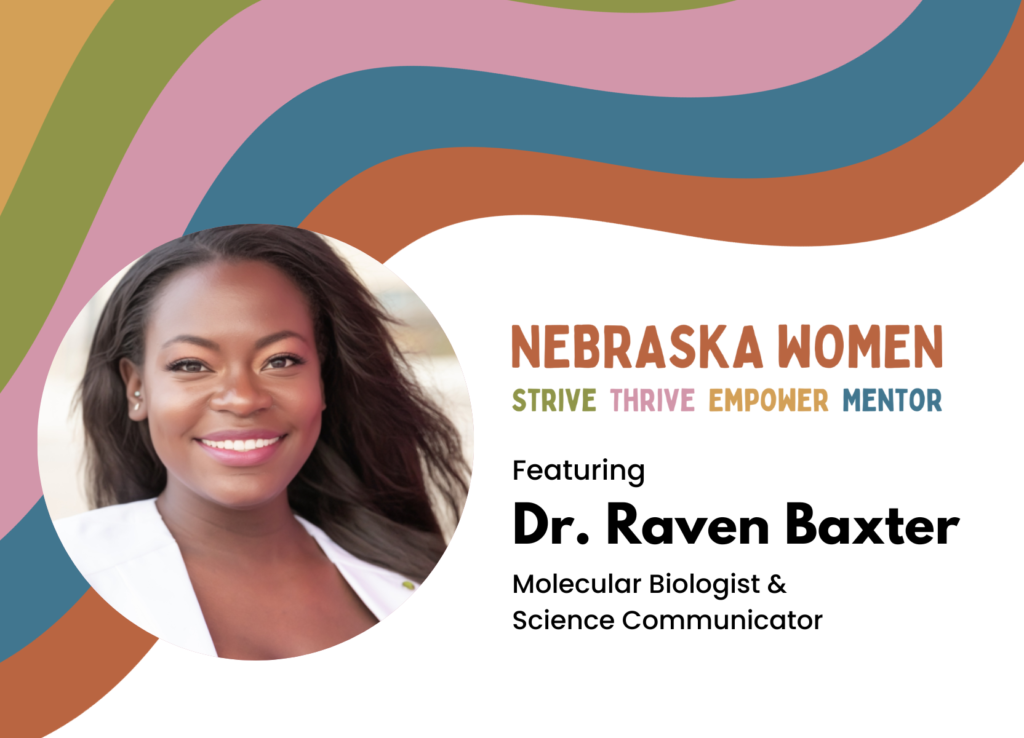 The conference, themed "Nebraska Women: Strive, Thrive, Empower, Mentor," will be held Thurs., April 4, 2024, at Embassy Suites by Hilton Omaha La Vista Hotel & Conference Center in La Vista, Neb. and will feature molecular biologist and science communicator Dr. Raven Baxter, aka Dr. Raven the Science Maven.   
"We are thrilled to have Dr. Raven Baxter join us for our second annual conference," said Nebraska Cures Executive Director Amanda McGill Johnson. "Dr. Baxter makes science fun and accessible and will share with us strategies on how to create a more diverse STEM community."
Dr. Baxter is a science communication strategist who is passionate about helping people understand the importance of science in their lives. Before becoming a molecular biologist, she started her career with Scientists and Engineers for America educating the public about science policy. Over 10 years later, she launched her platform as Dr. Raven the Science Maven, sharing science through storytelling, music, fashion, and comedy. Her collaborations extend to industry giants like SciEx, Olay, 3M, Brooks Running, Netflix, Regeneron, and various government organizations. Dr. Baxter is also Executive Director of The Science Haven, a non-profit that is dedicated to democratizing science, fostering curiosity, and bridging the gap between complex scientific concepts and the public.
"Our goal is for conference attendees to leave with new connections and additional tools to help them feel supported and more confident as they navigate their careers in STEM," said Bio Nebraska Assistant Director Sasha Forsen. "Knowing the important role that establishing connections can have on professional success, the Nebraska Women in STEM conference will highlight mentorship and building professional networks."
In addition to the keynote address by Dr. Baxter, the conference schedule will feature opportunities for women to develop their personal and professional identity, as well as, build networks of support to help them achieve their goals, and will take place in an inspiring, fun, and encouraging environment. Conference registration is $125 per person. Registration and sponsorship opportunities are available HERE.
About Nebraska Women in STEM
The mission of Nebraska Women in STEM is to provide opportunities for Nebraska's professional women in science, technology, engineering, and mathematics (STEM) to develop professionally, make connections, and promote policies that increase the number of women in STEM. Nebraska Women in STEM is a partnership between Bio Nebraska and Nebraska Cures. Learn more at nebraskawomeninstem.com.
About Nebraska Cures

Nebraska Cures supports, promotes and advocates for scientific research and education to advance our quality of life and our economy. Nebraska Cures carries out its mission by educating the public and policy makers on health science research and strengthening and diversifying the research career pipeline. For more information, visit nebraskacures.com.
About Bio Nebraska

Founded in 2005, Bio Nebraska is a non-profit trade association dedicated to supporting and promoting Nebraska's bioscience sector and ensuring the sector grows and thrives. Bio Nebraska is the only organization in the state representing over 100 bio-related entities in the human health, medical device, animal health, agriculture, renewable fuels and industrial biotech sectors, as well as educational institutions and service providers. For more information, visit bionebraska.org.