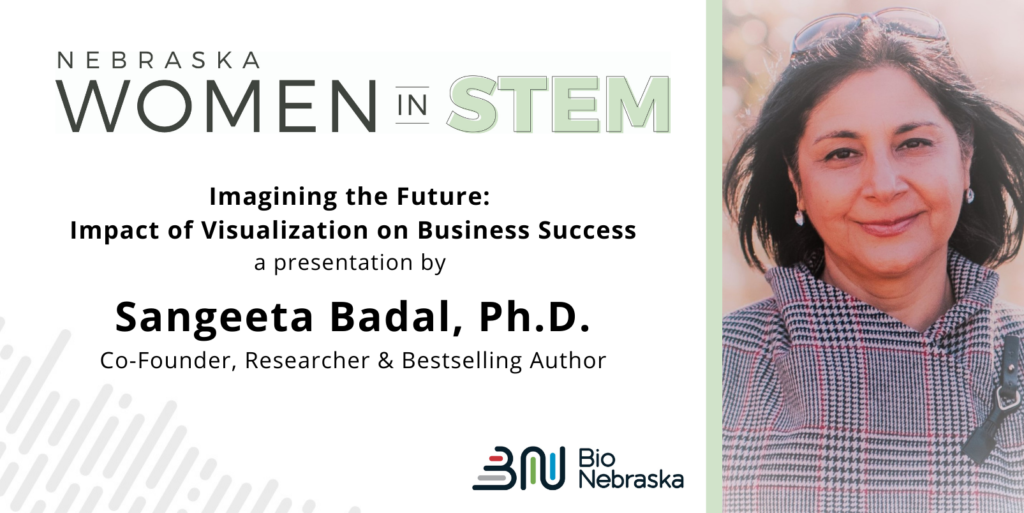 Did you miss our Nebraska Women in STEM event with Dr. Sangeeta Badal? Watch the replay!
Watch the replay of "Imagining the Future: Impact of Visualization on Business Success," a virtual presentation for Nebraska's Women in STEM by Sangeeta Badal, Ph.D. Dr. Badal discusses how visualization can contribute to your success. Learn what visualization is, why it works, and how you can use visualization to create a path to where you want to go.
About the Speaker
Sangeeta Badal, Ph.D., is the co-founder of Censio Analytics, a company committed to building inclusive educational environments by leveraging novel methods and technologies. She has 20+ years of experience in entrepreneurship theory and practice, advanced quantitative and qualitative measurement and evaluation techniques, psychometrics, and program design and implementation. She is experienced in creating evidence-based development programs for high school and college students, small business owners, and startups. Her research and writings have been published in peer-reviewed journals and in general press such as Inc., Forbes, Entrepreneur.com, and Washington Post. She is the co-author of Born to Build, which debuted on the Wall Street Journal bestseller list. The book goes beyond conventional economics-based business training and instead offers a uniquely psychological approach to venture building.
Thank you to our Nebraska Women in STEM Sponsors!