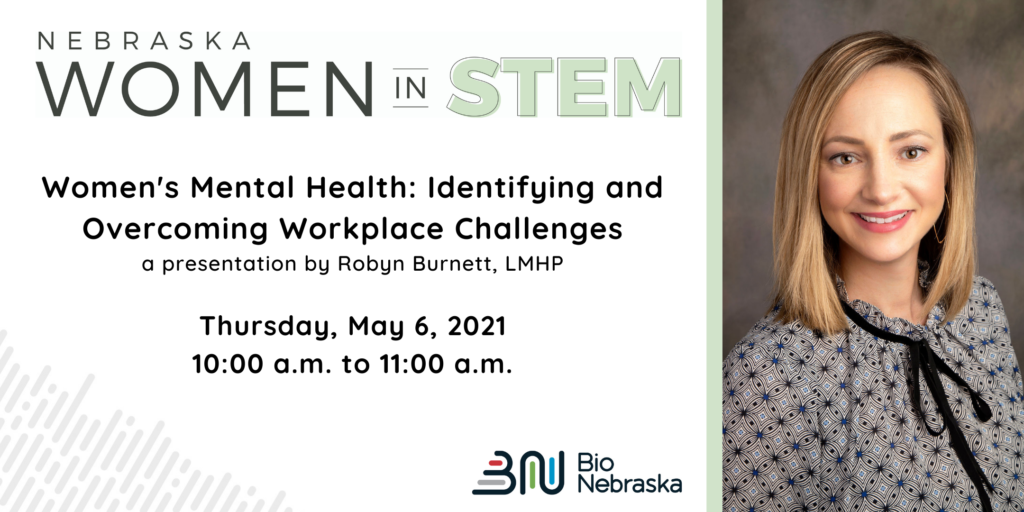 Join Bio Nebraska for a discussion about women's mental health in the workplace.
Thursday, May 6, 2021
10:00 a.m. to 11:00 a.m. CDT
Registration: $25
*Free to Students
About this Event
Join us for "Women's Mental Health: Identifying and Overcoming Workplace Challenges," a virtual presentation for Nebraska Women in STEM by Robyn Burnett, LMHP, Manager of Account and Education Services for Best Care EAP.
Robyn will discuss women's mental health in the workplace, including the impact the pandemic has had on working women throughout the past year. She will also identify barriers to mental health treatment and ways we can overcome those barriers to help ourselves as well as those around us.
About the Speaker
Since joining BCEAP's team in January 2018, Robyn's developed a passion for exploring ways to combat workplace distress and boost the mental health and wellbeing of an organization's workforce. She also works to educate the community about support services available through Best Care EAP and actively works to help reduce stigmas and stereotypes surrounding mental health.
With over 12 years of experience in mental health (private practice, hospital behavioral health and community behavioral health), it became evident the high rate of burnout of those in a helping profession was much more prevalent than even statistics indicate and that there was much more work to do on the preventative side of employee health and wellness.
Registration Deadline: May 4, 2021.
Thank you to our 2021 Nebraska Women in STEM sponsors!