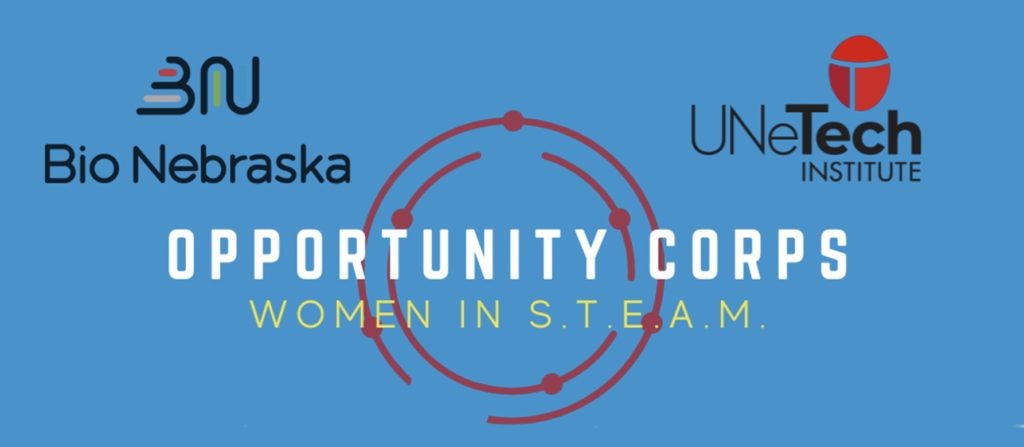 Bio Nebraska and the UNeTech Institute are excited to announce the 2022 cohort for Opportunity Corps, a professional development, entrepreneurship, and mentorship program for women in STEAM.
These individuals will meet on Fri., Feb. 11, 2022, for a virtual workshop that will kick off the 10-month-long program. Opportunity Corps will cover a wide array of topics related to starting and leading a business and will feature subject matter experts and entrepreneurs from the community.
---
2022 Opportunity Corps Cohort:
Andrea A. Rodriguez Gutierrez
Candice Starks
Courtney Allen-Gentry, RN MSN PHN AHN-BC HWNC-BC
Courtney Keiser
Deborah Dogba
Dolores Henson
Dr. Anupa Kamat
Itzel Lopez
Jana "Joey" Hartshorn
Jessica Hart
Katie Kresha
Katie Otten
Kinsey Bosselman
Krysten Vance
Lingli Gan
Makenna Smith
Mandy Steenbock
Melanie Kiper
Mireille Dimigou
Neha Kumari
Nicole Buan
Sabreena Larson
Sharon Martin
Shelley Schneider
Stephanie Cossette
---
For more information about Opportunity Corps, visit opportunitycorpsne.org.